Local SEO for Small Business: How to Rank Higher in 2023
Sep 29
If you own a business, you might wonder how to get more customers from your local area. You might have also heard of SEO, or search engine optimization, which is improving your website's visibility on search engines. But did you know that a specific type of SEO focuses on local searches? It's called local SEO, and it can help you reach potential customers looking for your products or services near them.
Let's get into the distinguishing factors of Local SEO for small businesses and why it's an essential strategy for marketing your goods and services. By the end of this post, you should better understand how to use local SEO to grow your small business online.
What is Local SEO?
Local SEO is a subset of SEO that aims to improve your website's ranking for local search queries. Local search queries are those that include a geographic modifier, such as "pizza near me," "dentist in Seattle," or "plumber in Brooklyn." These queries indicate that the user is looking for a local business that can provide them with a solution to their problem or need.
Local SEO differs from regular SEO because it considers the user's location and intent. For example, if someone searches for "coffee shop" on Google, they will see different results depending on where they are. Google will show them the most relevant and trustworthy coffee shops near their location based on distance, ratings, reviews, and availability.
To understand how local SEO works, you need to know the three types of local search results that Google displays:
This is a set of three or more local businesses that appear at the top of the search results page, along with a map and information such as address, phone number, hours, and ratings. The local pack is triggered by queries with solid local intent, such as "best pizza in town" or "hair salon near me."
This expanded version of the local pack shows more local businesses and allows users to filter and sort them by various criteria. The local finder is accessed by clicking on the "More places" link at the bottom of the local pack or by clicking on the map.
These are the regular web pages that appear below the local pack or the local finder. They are ranked based on their relevance, authority for the query, and location signals. The organic results can include local and non-local websites, depending on the question and the competition.
Why is Local SEO Important for Small Businesses?
Local SEO is vital for small businesses because it can help them attract more customers from their local area and increase their sales. According to a study by Google, 46% of all searches on Google are local, and 76% of people who search for something nearby on their smartphone visit a related business within a day. Moreover, 28% of those searches result in a purchase.
This means that if your website is optimized for local SEO, you are taking advantage of a huge opportunity to reach potential customers ready to buy from you. 
Local SEO can help you:
Increase your online visibility and brand awareness
By ranking higher on Google for local queries, you can increase your chances of being seen by your target audience and build trust with them. You can also use your website to showcase your unique selling proposition, products or services, customer testimonials, and social proof.
Build trust and credibility with your target audience
When you optimize your website for local SEO, you improve your online reputation and authority. You can do this by collecting and displaying positive customer reviews, creating and maintaining accurate and consistent listings on various online directories and platforms, and engaging with your audience on social media.
Drive more traffic to your website and physical store
Ranking higher on Google for local queries means you can drive more qualified traffic to your website and generate more leads. Your website can also provide helpful information to your visitors, such as directions, contact details, opening hours, special offers, and coupons. 
You can also use tools such as click-to-call buttons or online booking systems to make it easier for them to contact you or make an appointment.
Generate more leads and conversions
When you drive more qualified traffic to your website and physical store, your chances of converting the leads into customers increase. Some foolproof ways of moving visitors along the sales funnels include:
Creating and optimizing landing pages that match the user's intent and expectations by providing clear, compelling, and personalized calls-to-action (CTA).

Offering incentives such as discounts or free trials.

Following up with email marketing or remarketing campaigns.
Stand out from your competitors
In an attempt to optimize your website for local SEO, you can also gain a competitive edge over your rivals. Your analysis can show you a competitor's strengths and weaknesses. Competitor analysis helps you find and target niche keywords and markets you can create and promote valuable content for, which your competitors are not currently doing.
How to achieve local SEO for small businesses
Achieving local SEO for small businesses starts with following simple strategies that evolve. Some of the procedures mentioned below are easy to implement, while others are more complex. However, it's always better to implement multiple SEO strategies simultaneously to enjoy the benefits of SEO for small businesses fully. 
For example, if you want to do SEO for your general construction business, you need a GMB profile with top-notch reviews, consistent NAP details across every listing, and good general construction content. These strategies are explained in detail in the following paragraphs.
Here are the strategies you can implement to improve your business's online performance. 
Optimize your Google Business Profile
The first way you can achieve a search engine-optimized website locally is by setting up and optimizing your Google Business Profile. Google My Business (GMB) is a free tool that lets you manage your business's appearance on Google Search and Maps. It's one of the most critical factors for local SEO, as it can influence your visibility, credibility, and reputation.
You can take the following steps if you still need to optimize your GMB.
Claim and verify your profile if you haven't done so already

Fill out all the relevant information, such as your name, address, phone number, website, hours, categories, services, etc.

Add high-quality photos and videos of your business, products, or projects

Post regular updates and offers to keep your profile fresh and engaging

Respond to customer reviews and questions promptly and professionally

Use Google Analytics and Insights to track your profile performance and customer behavior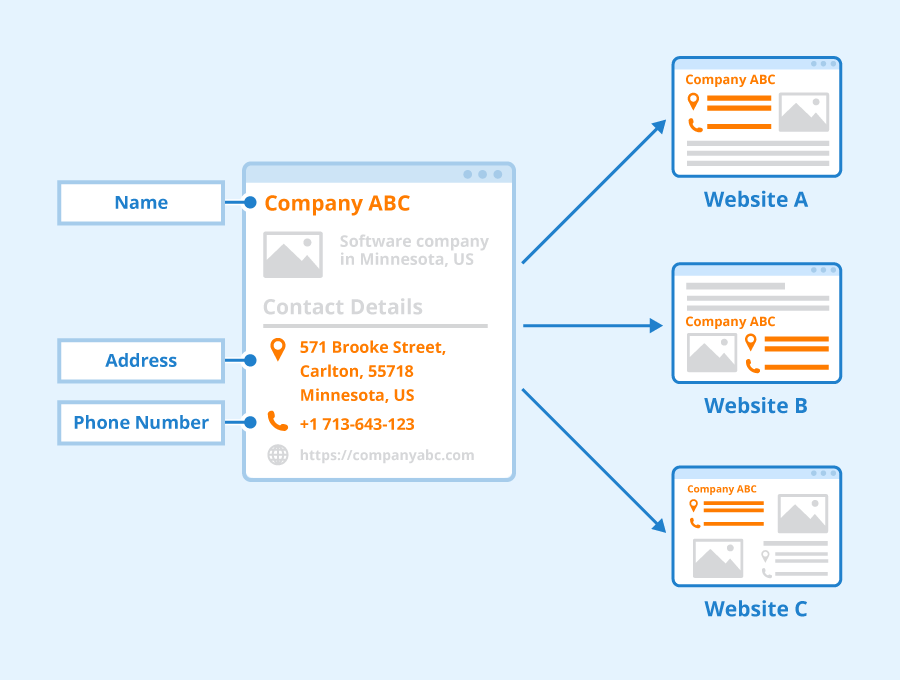 Build local citations and ensure NAP consistency
A local citation is any online mention of your business name, address, and phone number (NAP). Local citations can help you boost your local SEO by increasing your online exposure, authority, and trustworthiness.
However, you need to ensure that your NAP information is consistent across all the platforms your business is listed, such as online directories, social media, review sites, etc. Inconsistent or inaccurate NAP information can confuse search engines and customers and hurt your rankings and reputation.
To build local citations and ensure NAP consistency, you need to:
Find and claim your existing listings on popular platforms like Yelp, Facebook, Bing, etc.

Create new listings on relevant niche or local platforms that cater to your industry or area.

Use tools like Moz Local or BrightLocal to audit and manage your citations

Update your NAP information across every platform whenever there are any changes
Encourage reviews from local customers
Reviews are another critical factor for local SEO, as they can influence your online reputation, social proof, and customer loyalty. Reviews can also help you generate user-generated content (UGC), enriching your website and profile with fresh and relevant keywords. UGC can be influential, as about 84% of millennials are influenced by it.
To encourage reviews from local customers, you need to:
Ask for studies at the right time and place, such as after a purchase, service, or visit.

Make it easy for customers to leave reviews by providing multiple options and platforms.

Offer incentives or rewards for reviews, such as discounts, coupons, or freebies.

Showcase your reviews on your website and profile using widgets or plugins.

Respond to reviews (both positive and negative) in a timely and polite manner.

Use reviews to improve your products or services based on customer feedback.
Conduct local keyword research
Keywords are the words and phrases customers use to search for products or services online. Local keywords include a specific location or geographic modifier, such as "plumber in Virginia" or "New York State bakery."
Local keyword research is finding and analyzing the best local keywords for your business. Local keyword research can help you optimize your website and profile for the terms your target audience uses and attract more qualified traffic.
Steps for conducting local keyword research include;
Use tools like Google Keyword Planner or Ubersuggest to generate local keyword ideas based on your business category and location.

Analyze the search volume, competition, and intent of each keyword.

Choose the most relevant and profitable keywords for your business goals

Incorporate the keywords into your website content, title tags, meta descriptions, headings, etc.

Monitor and measure the performance of your keywords using tools like Google Search Console or SEMrush.
Create location-based content
Content is the backbone of any SEO strategy, as it can help you provide value to your customers, showcase your expertise, and rank higher on search engines. Location-based content is content that is tailored to a specific location or audience. In this case, you consider the weather, language, current economic situation, and culture when creating your content.
Location-based content can help you boost your local SEO by increasing relevance, engagement, and conversions. Location-based content can also help you target long-tail, less competitive, and more specific keywords.
To create location-based content, you need to:
Identify the topics and questions that your local customers are interested in or searching for

Create content formats that suit your topics and audience, such as blog posts, videos, podcasts, infographics, etc.

Use local language, references, and examples to connect with your audience

Add local schema markup to your content to help search engines understand and display your content better

Promote your content on your website, profile, social media, email, etc.
Optimize for voice search
Voice search is the act of using voice commands to search for information online. Voice search is becoming more prevalent among mobile users and smart speaker owners. With 50% of the US population preferring to use voice search for their queries, optimizing for voice search is a no-brainer.
Voice search can affect your local SEO, as voice queries are often more conversational, natural, and location-based than text queries. For example, a voice user might say, "Where can I find a good pizza place near me?" instead of typing, "Pizza near me." In addition, voice search is yet to peak, and you can get priority if you start now.
To optimize for voice search, you need to:
Use natural language and long-tail keywords that match how people speak.

Optimize for question keywords that start with who, what, where, when, why, and how.

Provide clear and concise answers to common questions in your content.

Use structured data and FAQ schema to help search engines understand and feature your content.

Optimize your website speed and mobile-friendliness to ensure a smooth user experience.
FAQs
How do I track and monitor my local SEO performance?
You can use Google Analytics and Google Search Console to track your website traffic, conversions, and keyword rankings. You can also set up goals and follow the performance of your local landing pages. In addition, use Moz Local and SEMrush to audit your and your competitor's online presence and reputation, respectively. 
What are the best local SEO tools and platforms?
The most vital local SEO tools for a small business are Google My Business for business listing, Moz Local, or BrightLocal for auditing your visibility, listings, rankings, and competitors.
Conclusion
Local SEO is a powerful way to grow your small business in 2023. Following these tips and best practices can improve your online visibility, reputation, and conversions in your local market.
Remember that implementing these SEO tips simultaneously is the best way to achieve optimization. Finally, monitoring and restrategizing with respect to your unique value propositions is the best way to stay in competition for a long time.